Eye Protection: Caring for your eyes requires more than yearly eye exams.
To keep his eyes healthy, your senior needs to look at the foods he eats, the steps he takes when he's outside, and his habits when doing certain activities for the best eye protection options.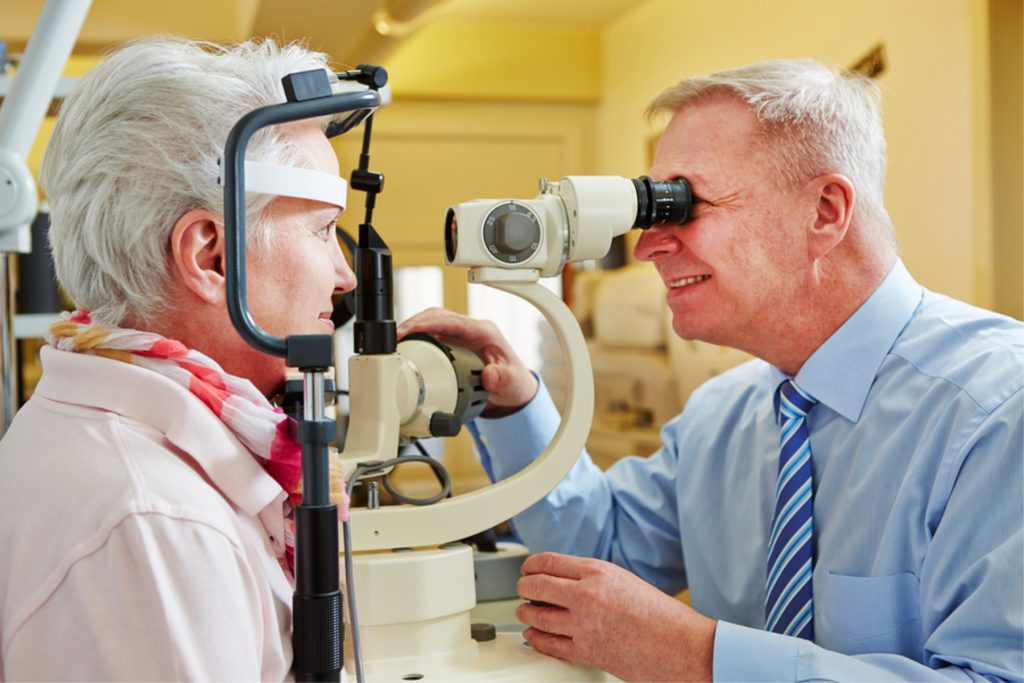 Protect the Eyes During Activities
If your dad's hobby is woodworking, he needs to have protective goggles. One splinter of wood that goes flying could cause tremendous damage if he doesn't have protective eyewear in place.
He needs to wear goggles while playing games like racquetball. He should also wear protective eyewear while mowing, pruning trees, or painting the walls inside and outside his home.
Wear the Right Sunglasses
Your dad needs to wear sunglasses when he's outside on a sunny day. Cheap sunglasses are not always best. He also may not get the best sunglasses if he spends a lot of money.
He needs to make sure the sunglasses cover his eyes and shade the skin around, too for good eye protection. For that reason, wraparound sunglasses are a popular option. His sunglasses need to protect against UVA and UVB rays. Polarized lenses can help stop glare.
Have Sunscreen That's Safe for the Eyes
The delicate skin on the eyelids needs to be protected. If the sunglasses don't cover all of this skin, you need to have sunscreen in place. An unscented sunscreen for sensitive skin is best. Make sure your dad applies more sunscreen every couple of hours.
Eye Protection: Eat a Healthy Diet
Your dad wants to eat plenty of foods that contain beneficial nutrients. Lutein is good for the eyes. You'll find it in broccoli, kale, and spinach. For fruit, he should pick grapes and kiwis to get plenty of lutein.
Antioxidants like vitamin C and vitamin E are also important. Choose berries, citrus fruits, and sweet peppers to get plenty of antioxidants that help with eye health. If he likes nuts and seeds, almonds, flaxseed, sunflower seeds, and walnuts are excellent options that are easily added to salads and breakfast cereals.
Zinc is good for the retina and may help prevent or slow the progression of macular degeneration. Foods that are rich in zinc include blueberries, eggs, peanuts, and shellfish can help with eye protection.
Finally, make sure your dad's intake of omega-3 fatty acids is high. These fatty acids help fight inflammation. He needs to eat fish like tuna, sardines, salmon, and herring if he wants to boost the amount in his daily diet.
Make sure your mom and dad go for regular eye exams. When they are outside, they must wear a hat, sunscreen, and sunglasses. Are they likely to forget these important steps? Senior care aides can make sure they're safe during their usual activities and always have eye protection.
Senior care services help with meals, transportation, and housekeeping. Caregivers can help with laundry, personal care, and grooming, too. Call and talk to a representative to make arrangements.
If you or an aging loved-one is considering Senior Care In Detroit, MI, please contact the caring staff at Crystal Home Health Care today. 313-493-4900